Spring 2019 Facilitators
In Spring 2019, we're offering 13 dialogues across 4 topics: Race, Gender, Socioeconomic Status (SES),  and Sexual Orientation!
My name is Alfie. I'm in my last semester studying Urban and Regional Studies in the College of Art, Architecture, and Planning. I hope to work as a community organizer after graduation, ideally fighting for community control over land use and against urban displacement. I believe there is dire need for structural change on so many fronts and am so grateful for the interpersonal skills I've developed through facilitating dialogue that will be crucial to this struggle. IDP has helped me validate that communication, empathy, and relationship-building are skills that not only can but must be worked on. I'm excited to be facilitating for the third time and to continue to learn how to better support myself and others as we strive for a better world.
Hi! I am a junior studying International Agriculture and Rural Development from southern Oregon. Outside IDP, I serve as the Vice President of Citizenship, Diversity, and Inclusion for the Cornell Interfraternity Council, am a member of the Cornell University Sustainable Design project team, volunteer for the Cornell Farmworker Program, and work as a campus tour guide. I also have a special interest in the first-generation college student experience and low-income student experience at Cornell and hope to leverage the skills I gain as an IDP facilitator to positively impact campus.
My name is Emma and I'm a senior studying civil engineering with a focus on structural design (e.g. buildings and bridges!). On campus, I am an Engineering Ambassador, the Secretary for the American Society of Civil Engineers, the Brother At Large for my honors fraternity, Phi Sigma Pi, and a welder and builder on the Steel Bridge Project Team. This semester will be my first time facilitating for IDP and I'm very excited to step into this new role. I found my nationality section last semester to be incredibly rewarding, so I look forward to opportunities for personal growth and I'm eager to learn from everyone in the IDP community.
I'm a sophomore in the College of Engineering intending to study Applied Engineering Physics. I'm originally from sunny Los Angeles, California. I took EDUC 2610 in the first semester of my freshman year and loved it! As a facilitator, I love to expose my peers to dialogue skills and think critically about privilege in academia.
I am a sophomore in the College of Engineering. I am planning on majoring in computer science and minoring in mathematics, but I am also interested in operations research. I enjoy delving into artificial intelligence in particular, and hope to use this interest in a project that benefits others in the future. I took IDP last semester, and immediately became fascinated with each person's story, and how their individual experiences formed their values and identity. I am excited to continue learning more as a facilitator this semester!
Hello! I am a junior double majoring in American Studies and Spanish with a minor in Africana Studies. On campus, I am the President of the Panhellenic Council, the Vice President of the Cornell Democrats, and a popcorn person at Willard Straight Hall. I hope to pursue a career in teaching after graduation, and I am interested in the intersection of civil disobedience and education policy. I have seen the positive impact of IDP workshops with leaders in Greek Life, and I am excited to facilitate a section this spring.
I'm currently a senior in Information Science, concentrating in User Experience. I'm from Boston and am a huge Red Sox fan! Outside of classes, I'm involved with Body Positive, Alpha Epsilon Phi, and Cornell Design & Tech Initiative. I also love anything to do with reading, coffee, and/or memes. I'm super excited to be involved with IDP this year after an amazing semester in EDUC2610! I'm passionate about inspiring people to have more empathy for others and striving for equality.
My name is Reem, a third year chemistry major on the premedical track in the College of Arts and Sciences. I'm passionate about social justice and actively immerse myself in issues related to the Pan Africanism and blackness. This is reflected in my campus involvements with student run organizations as President of the Coalition of Pan African Scholars. My experience with IDP drove me to seek different avenues of social activism, one of them is becoming a facilitator to continuously hone my skills as a community builder and become part of a system that creates change in our campus climate. Another is pursuing research in public health issues related to racial and gender identity in order to fortify my knowledge, literature and future impact as an aspiring doctor.
I am a junior in CALS studying Biometry & Statistics with a minor in Computer Science. I am from Rockland County, NY. On campus, I am involved with my sorority, CALS Ambassadors, and Hillel, and in my free time I can often be found playing guitar. I developed an interest in social justice in high school through my work with Jewish youth programs and my school's Gay-Straight Alliance. I took IDP in Fall 2017 and am excited to be facilitating for the first time. IDP provided me with new language and a new way to look at social justice, and I hope to help others use dialogue to explore their own identities and interactions.
Hi! My name is Deja and I am a Junior in Human Ecology studying Fiber Science. I hope to use my education to aid in cleaning up the textile industry and provide better factory conditions for workers. I am passionate about social justice and exploring the intersections of class, race, gender, and sexuality. My experience in IDP as a student allowed me to productively explore these areas, and I hope to use the new language and skills learned to facilitate healthy and productive discussions this semester.
My name is Ikenna and I recently graduated with a degree in Biological Sciences from the College of Agriculture and Life Sciences. Having attended community college, I gained an interest in creating access to education for all people. While a student I was a member of the campus organization Students Onto Scholars, where I volunteered as an Achievement Coach at the Greater Ithaca Activities Center, helping underrepresented students develop their literacy skills and understanding of math concepts. Outside of class, I also performed research on the mechanisms of bacterial antibiotic resistance in Doerr Lab. During my second semester at Cornell, I was a participant in a race dialogue. The course truly made me feel more comfortable in an environment that was very new to me. I would go on to facilitate the Race dialogue as well as Socioeconomic Status. Currently I am working as a staff member with the Intergroup Dialogue Project before I attend medical school in the Fall of 2019.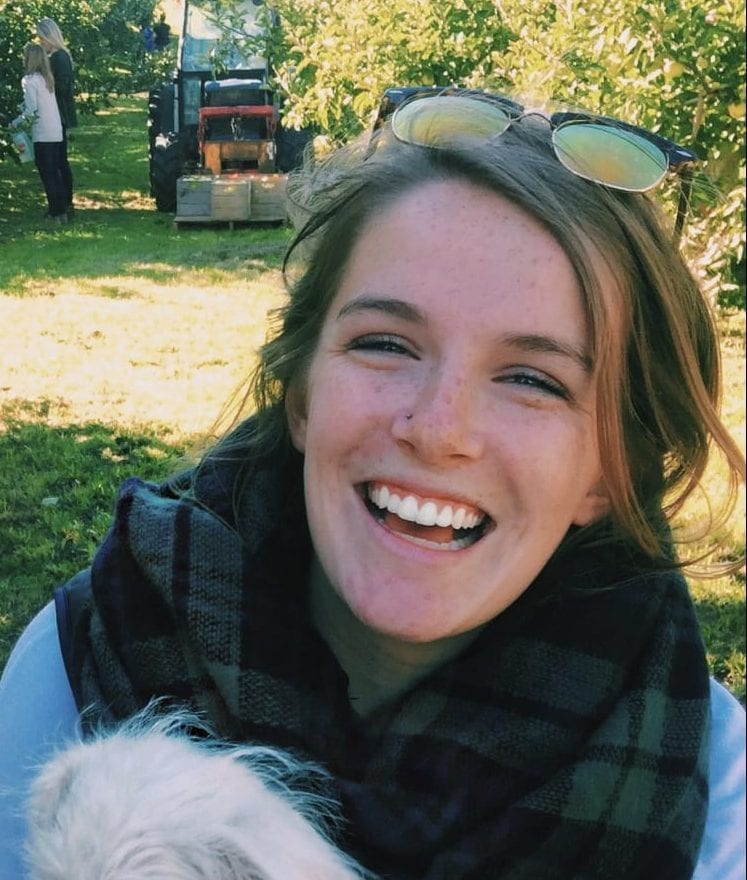 I am a senior in the ILR school with minors in Business, Law and Society, and Feminist, Gender, and Sexuality Studies. On campus, I work as a research assistant at the Scheinman Institute on Conflict Resolution and as a student sales associate at the Cornell Store, along with being involved in Alpha Chi Omega and the ILR Conflict Resolution Club. I am passionate about equity within public education systems and hope to ultimately work on education policy in the future. As a first time facilitator, I look forward to continue learning about diversity within the Cornell community while further exploring my personal interest in the critical role empathy plays in dialogue and interpersonal relationships.
My name is Luiza and I have lived in Orlando, Florida for almost eleven years since moving from São Paulo, Brazil. I am a sophomore in the College of Arts and Sciences and am pursuing a double major in Psychology and FGSS (Feminist, Gender, and Sexuality Studies). I am interested in the ways social identities impact the mental health of individuals, especially those in gender and sexuality minority groups. I took IDP in the spring of my freshman year and look forward to facilitating for the first time!
I am a senior in the ILR School with minors in Inequality Studies and Law and Society. I love learning about the intersection of policy and entertainment media as I believe it is a microcosm of the most deeply rooted issues in society. Passionate about building community in every environment I touch, my transition from student to facilitator seemed natural. Fresh off the semester of a lifetime abroad, I am excited to come back to be part of the IDP family, and build connections across difference. I am excited to continue to explore my identity alongside my peers and help others do the same.
Hi! I'm Nick Sepulveda, a rising junior. On campus, I am involved with Dyson Inclusion and Diversity as well as Financial Risk Management Club of Cornell. I've also been a part of Cornell Dining in all my semesters at Cornell. I took IDP last semester and fell in love with it, so I'm excited to become a facilitator myself. It's a really beautiful experience to get to foster a community with a group of people you eventually get to know much better, while also being able to learn about social justice matters I've frankly never considered before.
Greetings! I'm a freshman in the Dyson School minoring in education. I would love to market educational strategies and programs in the future. On campus, I am part of the Class of 2022 Council, Asha Cornell, and Salsa Pa'lante. Though I recently discovered my passion for math and psychology books, my relationship with podcasts is long-standing and healthy. I attended a big public high school in Poughkeepsie, New York and remember seeing first-hand the need for increased communication and understanding across diverse communities. After participating in the sexual orientation dialogue last semester, I am more motivated than ever to hear life experiences and facilitate new levels of awareness.
I am a senior studying Computer Science in the College of Arts and Sciences with minors in business and dance. On campus, I am president of Impact Dance Troupe, dance with Pandora Dance Troupe, am involved in Phi Mu, and am a consultant for CS 1110. Next year, I will be pursuing a career in software development and am interested in exploring how technology can be responsibly developed to mitigate social issues. I had an amazing experience in the race dialogue last semester and am excited to keep learning as a facilitator!
I am a junior studying International Agriculture and Rural Development and minoring in Film. I'm a first generation American and am passionate about my heritage and discovering how others' backgrounds inform their identities. Outside the classroom, I shoot freelance portraits, work in a research lab, act in plays, and serve on the editorial board of the Cornell Daily Sun. I'm also involved in my sorority as chair of Citizenship, Diversity, and Inclusion. I can't wait to look back on the growth I will have experienced with my co and participants. Teaching, and more importantly, learning from IDP will be the highlight of my semester.
Hi! My name is Jeannie, and I'm a sophomore studying Environmental and Sustainability Sciences and Developmental Sociology. On campus, I'm involved with Cornell Asian Pacific Student Union (CAPSU), ALANA Intercultural Board, and Climate Justice Cornell. IDP has deepened my understanding of social justice and dialogue, and I hope to use this knowledge in combating environmental injustice. EDUC 2610 was a highlight of my fall semester, and I can't wait to grow and learn even more as a first-time facilitator this semester.
Hi! I'm a senior in the College of Arts and Sciences studying Biology and Society on the pre-dental track. I'm a first generation American with eastern European heritage, having grown up in the Boston area. I have been involved with research working with survivors of acquired brain injury in the physical fitness and cognitive programs of Supportive Living Inc. Due to this experience with disabilities and my ethnic background, I am passionate about encouraging awareness about systems of inequalities. As a student athlete, I am a member of Cornell Women's Ice Hockey team and we are reigning back-to-back Ivy League Champions! I am also involved with Athlete Ally, Athletic Pre-Health Society, and the Community Bear Walk. I like to spend my free time exploring Ithaca, playing piano, skiing, and surfing.
All the way from Aurora, Colorado, I am an Animal Science major on the pre-veterinary track. On campus, I am an undergradute representative for the CALS Diversity & Inclusion Committee, the junior class representative for the CALS Alumni Association Board, and the Community Outreach Chair for the B.O.S.S. Peer Mentorship Program. I have always been intrigued by the wondorous IDP and its popular credentials around campus. I am looking forward to facilitating for a third time this semester.
I am senior chemical engineering student from Miami and this is my third semester facilitating! On campus, I am the co-president of the Society of Hispanic Professional Engineers and the president of Latinas Promoviendo Comunidad/ Lambda Pi Chi Sorority, inc. I hope to help others discover the power of dialogue and building community across difference.
My name is Owen and I am a junior Environmental Science major from Brooklyn, New York. After taking IDP my sophomore year, I was so impacted by the experience that I wanted to facilitate and continue to be both a teacher and a learner in the classroom. IDP equipped me with the skills and tools to tackle injustice on an everyday level. It taught me not just to listen, but to hear and not just to speak, but to be heard. Here at Cornell, I am a project team lead for Cornell University Sustainable Design and an active member of the greek community. I love to play soccer and basketball and I am an avid hiker. I hope one day to pursue a career in renewable energy, working to spread solar power around the world!
Hi, my name is Sneha and I am a senior studying chemical engineering. After graduation I hope to pursue a research career in pharmaceuticals or biotechnology. My IDP experience was extremely rewarding as I challenged myself intellectually and learned to view structures of oppression in new ways. As a new facilitator for IDP, I am excited to continue growing this semester. I am passionate about helping others communicate across difference in the realms of engineering, education, medicine, and community service. On campus I a member of the synthetic biology project team iGEM, a brother of the community service fraternity Alpha Phi Omega, a researcher in the Alabi Lab Group, and a biochemistry teaching assistant.