Our first humans of IDP this year are Sarah Aiken and Ikenna Onyekwere! This fabulous duo is facilitating one of our race dialogues this semester.  Here's what they have to say about IDP:
Co-Facilitators Sarah '18 and Ikenna '18
Why IDP?
Ikenna: I transferred to Cornell a year ago and had no idea what IDP was. I was recommended to take this course by Wendy Aquadro from the OUB. I remember getting a permission code to enroll in a race dialogue facilitated by Shaibyaa Rajbhandari and Caroline Baldwin. The first few sessions I did not talk much. I had never spoken openly about race with people outside of the minority group before. Taking the course honestly made me feel more comfortable at Cornell since the environment and demographic was very new to me. I also left the course with some of the skills necessary to engage in dialogues about race or any other topic. Now here I am facilitating a race dialogue with Sarah.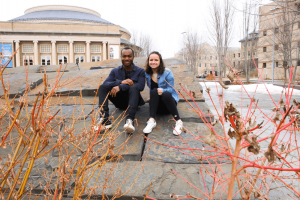 Sarah: I signed up to take IDP after hearing about it from some friends and for the education minor. As a student, the class completely changed my perspective about so many things and gave me a lot of insight into my own social identities. As the semester ended, I knew I couldn't not stay involved! Being a facilitator over the past year has introduced me to so many people who I wouldn't otherwise have met and has given me a great outlet to engage in important conversations regarding identity. I'm excited to take what I've learned here into my teaching career!
What is your favorite thing about your co-facilitator?
Ikenna: Sarah knows how to handle any situation in the classroom and she notices the most minute details that are important to the classroom dynamic. She will be an awesome teacher someday. Sarah has been very supportive of me as a co-facilitator especially since this is my first time. Don't we look great in these pictures?
Sarah: My favorite thing about Ikenna is how positive he is in general! Whether we are planning a session or grading papers, he's always smiling. He very much takes that positive energy into the classroom as well!